Suzanne Langelier-Lebeda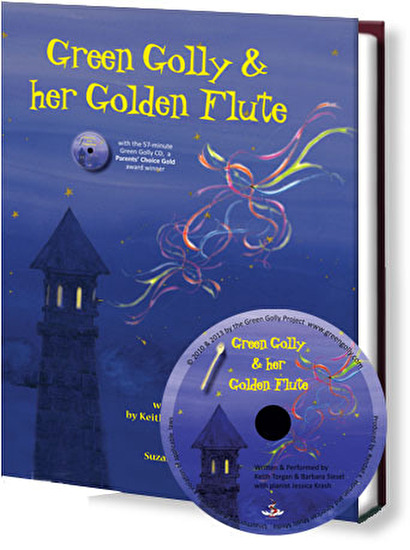 Introducing young children to classical music:
written & performed by Keith Torgan & Barbara Siesel, illustrated by Suzanne Langelier-Lebeda
"Green Golly and Her Golden Flute is a new breed of children's book!" Macaroni Kid
"An unforgettable childhood experience." Midwest Book Review
"Keith Torgan and Barbara Siesel's musical fairy tale, Green Golly & her Golden Flute, is funny, educational, and inspirational all at once. The musical selections are fabulous and a great introduction for children (and anyone else, for that matter) to classical music. The illustrations by Suzanne Langelier Lebeda are fantastic with rich colors, amusing little creatures, and landscapes that fit right in with the story and the music." Readers' Favorite
"Suzanne Langelier-Lebeda did a beautiful job at illustrating this whimsical story. Her illustrations flowed like music as you turned the pages. Her work is some that would be delightful to frame and decorate any child's room with." Jubilee Reviews
Latest News: Green Golly & her Golden Flute is a WINNER of a 2013 Family Choice Award! The "Family Choice Awards" recognize the best in children's and parenting products. Now in it's 18th year, the "Family Choice Award" is one of the most coveted, family friendly consumer award programs in the nation.
Purchase Green Golly: Eifrig Publishing | Home; Amazon and other online book sellers;
(suzannelebeda.com $19.99+$3.00 mailing=$22.99; NY sales tax added to NY orders.)